WCPP Engage
The Western Cape Provincial Parliament (WCPP) will host a WCPP Engage Programme in Caledon, on Tuesday, 18 April at 10:00. With the aim to strengthen democracy, the programme seeks to facilitate meaningful engagement between the Members of the WCPP and stakeholders from the Theewaterskloof and Overstrand Local Municipalities.
Event details:
Date: 18 April 2023
Time: 10:00-14:00
Venue: Town Hall, Church Street, Caledon
For more information on the event, please contact the Manager: Public Education and Outreach, Mr Themba Keswa, at Thembalethu.Keswa@wcpp.gov.za.
Image: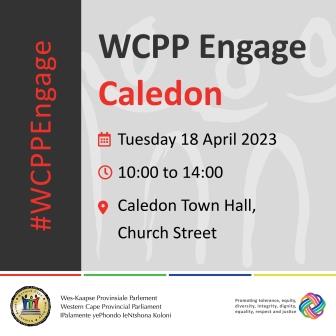 Feature on Home Page Carousel: