Breast Cancer Awareness message from the Standing Committee on Health
With October signalling breast cancer awareness month, we call on all residents to recognise the prevalence of this disease in our society. 
Breast cancer remains the leading cause of early mortality from cancer for women. With women, on average, possessing a 1 in 27 lifetime risk of developing this cancer, many under the age of 40 have been diagnosed as a result.
However, this disease is not entirely exclusive to women. Of all breast cancers diagnosed, 1-3% are found in men. While this means that breast cancer may be found later in a man's life, this cancer is much smaller and may not be as easily detected.
Therefore it is crucial that we all adopt healthier lifestyle choices to reduce the risk of cancer. In addition to this, early detection through self-examination and annual check-ups are crucial to preventing adverse outcomes and prognosis, particularly if one has a family history of breast cancer.
The Western Cape Government has a specialised breast clinic at Groote Schuur Hospital, and is operational on Wednesdays and Fridays from 07:00. It is important to have a consultation with a healthcare worker in order to get a referral first before entering this clinic.
Let us all work together in not only saving ourselves, but also loved ones to close to us.
Enquiries: Chairperson of the Standing Committee on Health, Hon Wendy Kaizer-Philander, Email Wendy.philander@wcpp.gov.za or Cell 076 528 1211.
Image: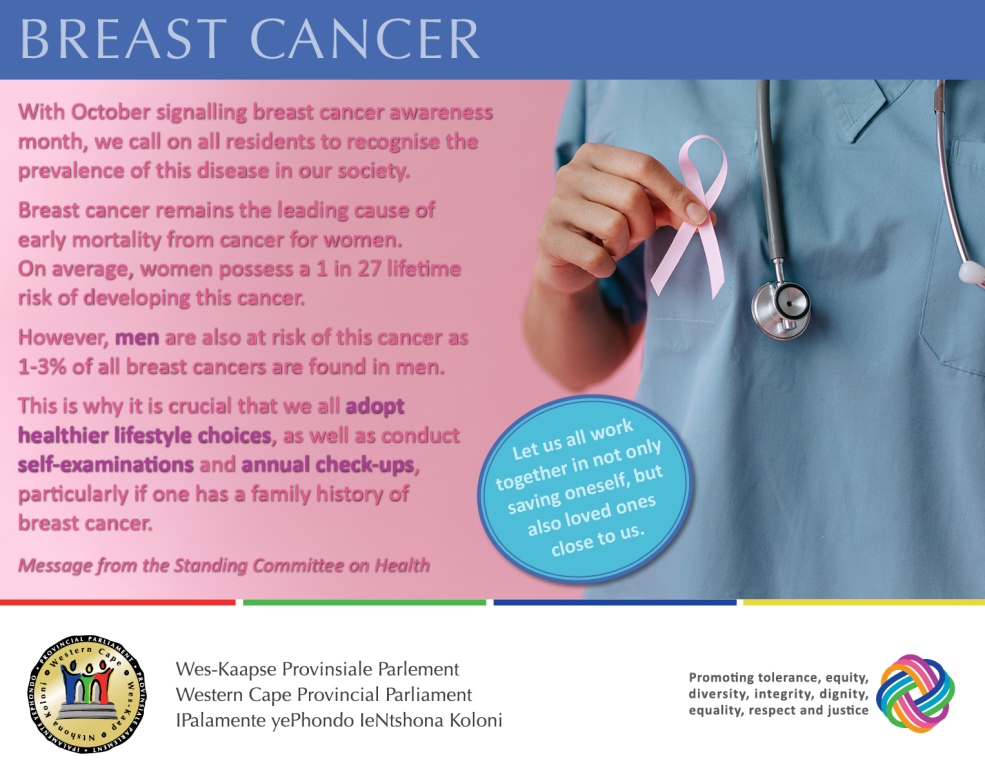 Feature on Home Page Carousel: