WCPP to co-host CPA Residency Programme
The Western Cape Provincial Parliament (WCPP) will co-host the 2022 Commonwealth Parliamentary Association Residency Programme in Cape Town, from 24 to 28 October 2022. The programme, which will be attended by 35 Members of Parliament, representing parliaments from across the Commonwealth, is intended to enhance the professional development skills of Parliamentarians.
"We are proud and excited to welcome delegates from across the Commonwealth, including Belize, Gambia, Ghana, Jersey, Malawi, Pakistan, Sri Lanka, Australia, Zambia and South Africa, to Cape Town. The WCPP is privileged to co-host this programme with the CPA," says Honourable Speaker Masizole Mnqasela.
This CPA programme is the second of two CPA Parliamentary Academy residency programmes being held in 2022 and will examine how Members of Parliament can enhance their soft skills on topics ranging from leadership and strategic thinking to communication and team management. Over five days, the delegates will develop universal skills that are applicable both in parliaments and in many different spheres.
Delegates will be mentored throughout the programme by current and former parliamentarians from across the CPA's membership, including Speakers and Presiding Officers from the Western Cape, Kwa-Zulu Natal and Alberta, Canada, as well as experts in professional development.
The CPA Secretary-General, Stephen Twigg said: "For a long time, there has been a prevailing argument that an alternative approach to professional development training is by enhancing soft skills such as communication, planning, time management, etc. Such skills are arguably far more transferable and can support new or experienced parliamentarians in being better prepared to deal with the many challenges that may arise over the course of their careers, whether in parliament or outside the parliamentary sphere. As such, this is the first programme of its kind being offered by the CPA and it is hoped such an approach will garner more complimentary skills to support parliamentarians in their incredibly challenging work."
The CPA is an international community of 180 parliaments and legislatures working together to deepen the Commonwealth's commitment to the highest standards of democratic governance. Founded in 1911, the CPA brings together Members of Parliament and parliamentary staff to identify benchmarks of good governance and implement the enduring values of the Commonwealth. It offers a vast opportunity for parliamentarians and parliamentary staff to collaborate on issues of mutual interest and to share good practice.
Image: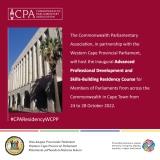 Feature on Home Page Carousel: