Handover of educational material
The Speaker of the Western Cape Provincial Parliament Hon Masizole Mnqasela will be presenting a set of educational materials to the principal of Jakes Gerwel Technical School in Bonnievale, on 24 October. Western Cape Minister for Education Debbie Schäfer will also be in attendance.
The material, consisting of a set of five educational posters in the three languages of the province is currently being distributed to all WCED secondary schools across the province. The material on the posters relates to the CAPS curriculum in the following areas:
Grade 6: Nation building and cultural heritage
Grade 7: Human rights in the SA constitution
Grade 8: Nation building
Grade 9: Citizens' rights and responsibilities
Grade 10: National and international instruments and conventions
Grade 11: Democratic participation and democratic structures
Grade 12: Responsible citizenship
The Western Cape Provincial Parliament is mandated by the constitution of South-Africa to make laws, conduct oversight and to facilitate public involvement in its processes. One of the core channels for enhancing public involvement is to provide education on what the WCPP does, how it conducts its business and how citizens can become involved and influence decisions. It is hoped that these resources will assist schools to further the education of the youth of the Western Cape, who will then share their knowledge with their parents and their communities at large.
Speaker Mnqasela will hand over the set of posters to Mr Albert Mocke, principal of Jakes Gerwel High School at a ceremony on 24 October at 08:30. Following the formalities, officials from the Public Education and Outreach office of the WCPP will conduct an education workshop with learners from the school, using the posters.
Members of the media are invited to cover the event which will take place as follows:

Date: 24 October
Time: 08:30
Venue: Jakes Gerwel Technical School, 2 Landbou Street, Bonnievale
Image: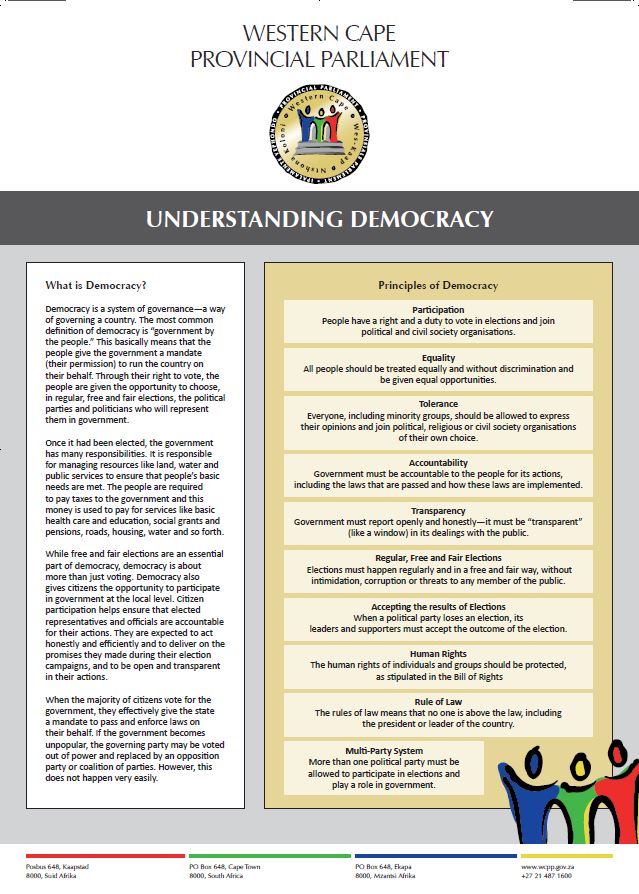 Feature on Home Page Carousel: